The Elegant Symmetry of the Gorilla
5.11.2018 – 21.11.2018
"Ivo the cubist gorilla of the Berlin Zoo invites you to discover his myriad expressions, from New York to Berlin.
Pacing from corner to corner in his glass cage day after day, Ivo the gorilla of the Berlin Zoo displays a singularly angular silhouette, taking on a cubist form with which Picasso and Georges Braque could surely have identified.
Ivo the cubist gorilla of the Berlin Zoo peers out, his eyes betraying a certain angst. Disheartened by the cheerlessness on the faces he contemplates each day, he dreams of defying zoo rules, opening the door of his cage and transforming himself into glass, paper and metal. He would set off to exhibit his new appearance, from New York to Berlin, to audiences other than zoogoers, all the while seeking to understand what makes humans so discontented."
Didier Guillon, January 2018
Inspiration in Berlin
Visiting the Berlin Zoo in 2017 with his youngest daughter Valentine, Didier Guillon, President of the Valmont Group and of the Foundation of the same name, fell under the charm of Ivo, the famous gorilla and zoo mascot. As an art connoisseur, Didier Guillon envisioned an alternative destiny for this elegant animal with his angular and resolutely cubist silhouette. He then dreamed up a metamorphosis for Ivo: a series of artistic tributes to portray the quest of a gorilla in pursuit of happiness… the happiness that should brighten the eyes watching him each day, the lost joy of humanity.
Artistic expressions
True to his nature, an exhilarated Didier Guillon set to work to fine-tune his idea. He designed a series of works in various media, in several dimensions, skillfully juxtaposing various materials…
The result is a collection about thirty works, the first series entirely designed and created by Didier Guillon for the Fondation Valmont, in association with a selection of talented artists:
Sketches and collages on various types of paper displaying a multitude of visions,
Silhouettes created in vinyl, enriched with varied inlays,
A bas-relief in Murano glass, a medium Didier Guillon has long championed,
Metal sculptures exhibiting numerous choices, working methods and finishes for a constantly renewed aesthetic vision.
The only work by a guest artist is Gorilla and the block, a ronde-bosse statue by Pascal Masi, owned by the Fondation Valmont.
ITINERANT EXHIBITION
2018 – 2019
New York – 5th-21st October 2018
Address: 393 Broadway Gallery, New-York 10013
Opening hours: 10 am – 6pm
Didier Guillon is not a gorilla!
But there is no doubt that we all have the same ancestors.
This distant kinship, along with a single tear Didier's daughter Valentine noticed glistening in the corner of Ivo's eye, was enough to convince him to pay tribute to this captive specimen in the Berlin Zoo.
It clearly invites us to reflect, to create; it offers inspiration for color and design, for painting and sculpture, for steel, glass and paper…
"When art meets beauty," the slogan dear to La Maison of Valmont and the Fondation Valmont, a heartfelt cry of angst from a man ever in search of modernity and beauty, who now offers us this series conveying "sweet gorilla symmetry."
Not really all that symmetrical… but for once, enjoy the 800-pound gorilla in the room!
Text : ISAO, artist and Didier Guillon's friend
Ivo will travel around the world in 2019… Save the date!
La Maison Valmont Munich from January 10th to February 17th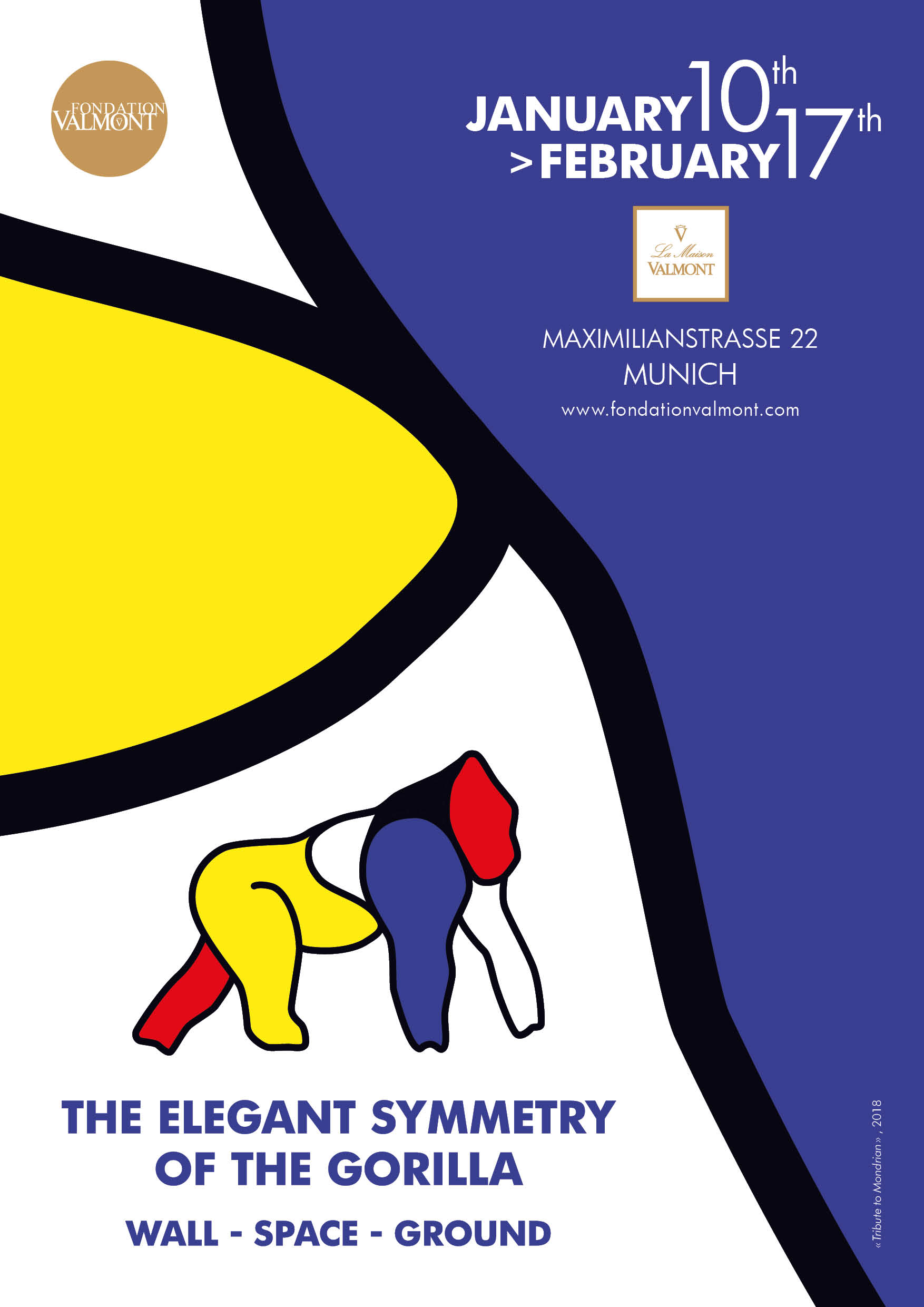 When Art pushes department stores doors…
After New-York and Munich, Ivo, the gorilla, keeps travelling the world and settles at Globus Geneva from the 18th to the 31st of March.